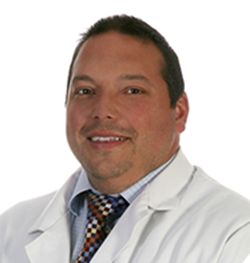 Meet John A. Guerriero, D.O.
A member of the medical staff at Berwick Hospital Center, Dr. Guerriero diagnoses, treats and manages conditions in your arteries and veins. Treating a range of health problems, from spider and varicose veins to life-threatening aneurysms, Dr. Guerriero can help patients manage chronic conditions throughout their lives.
Dr. Guerriero is skilled in the following vascular procedures performed at Berwick Hospital Center:
Aneurysm, a bulge or weak spot in an artery
Atherosclerosis, or hardening of the arteries, where plaque builds up on your artery walls
Carotid artery disease or peripheral artery disease (PAD), where the arteries that bring blood to your neck or limbs become narrow or blocked
Deep vein thrombosis (DVT), a blood clot in a vein deep below your skin
Trauma to arteries and veins caused by accidents or injuries
Varicose veins, or large, swollen, twisted veins, that can cause pain or aching in your legs
Venous ulcers and arterial and diabetic (neuropathic) wounds, which are non-aneurysm (bulges or weak spots in an artery)
Dr. Guerriero accepts new patients. Most insurance accepted including Geisinger Health Plan. Ask about same-day appointments and telehealth visits. Call 570-750-0708.