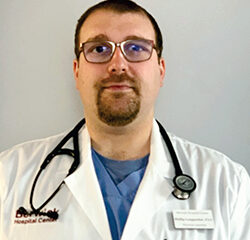 Phillip C. Longnecker, PA-C
Physician Assistant
Mr. Longnecker received a BS degree as a Physician Assistant from Pennsylvania College of Technology, Williamsport, PA and a BS in Health Science from Lock Haven University, Lock Haven, PA.  He has more than 9 years of experience as a certified physician assistant and has received additional training in advanced cardiac life support, advanced pediatric life support, cardiopulmonary resuscitation, and automated external defibrillator training.
The Walk In Clinic is located at 301 W. 3rd Street, Berwick, PA
He offers telehealth visits as well as walk-in visits.
To contact the Walk In Clinic call  570-759-0351